The Weather feature allows for researching weather events by date and severity. It also allows for creation of marketing campaigns based on weather event information.
The green View Map button in the header of the dashboard takes you to the Weather Map. The dashboard also includes two visual displays.
Most Recent National Storms
This display showcases the topmost recent storms around the country by date. Each storm listed includes information on:
Location of Storm
Date of Storm
Size of Hail
Number of Homes Affected
Each individual storm can also be clicked into—this takes you to the Weather Map feature zoomed to the specific filters associated with that storm listing.
Storm swaths appear in a scale outlined by the legend on the right-hand side of the map. Hovering the cursor over each swath will show the size of hail and the number of homes affected within the individual swath.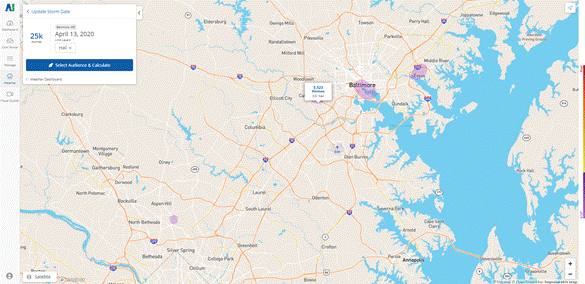 My Storm Campaigns
Vital information for each of your active storm campaigns is displayed in the My Storm Campaigns section. Each campaign has a View Leads link that, when clicked, directs to the Com Portal. Information displayed for each campaign includes
Location—targeted market for campaignu
Storm Date—date that the storm affected the location
Created On—date storm campaign was created
Start Date—start date for storm campaign
Leads—clicking the View Leads link here takes you to the Com Portal
Status—indicates the activity status of the campaign: Active, Paused, or Cancelled