The PSAI Weather Map tool is used to set up targeted storm campaigns based on storms in your region. After using one of the search options to find storms in a particular region, you can then begin a storm campaign in the following steps:
1. Search Target Market
Use the filters and storm information provided to choose a storm and see a detailed swath view of the map.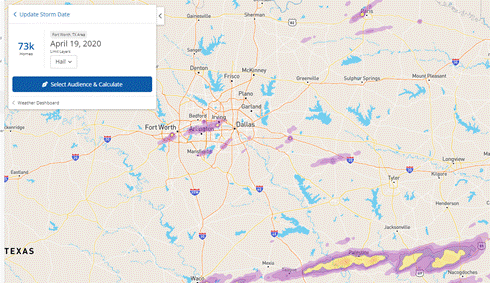 2. Zoom into Storm Area
Once a storm is chosen, you can zoom in on key areas of the storm to view swath layers. From there, click the Select Audience & Calculate button in the upper-left of the map.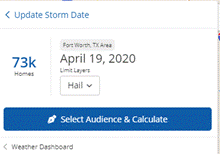 3. Select Campaign Area
Clicking the Select Audience & Calculate button will take you to the Draw feature—allowing you to draw a shape for the specific area of the storm you would like to target with your campaign.
If you're targeting multiple storms on the same date, we recommend combining them into one storm campaign by drawing all of the storms on the same map.
Select Done from the display in the upper-right corner to continue.
4. Calculate Homes Affected
The number of homes will be calculated, including only homes that were affected by the storm within the swath and within the shape drawn in Step 3. This may take a few minutes.
Did the Weather map time out? Then your swath may be too large to calculate. Learn more here.
5. Start Campaign
Once the calculation is complete, the popup will display the following information:
Estimated Selected Homes Affected
Date
Location
Estimated Storm Campaign Cost—based on a cents-per-home cost that pulls from the home cost field.
Clicking the Start Campaign button will then automatically begin the campaign to the targeted homes affected by the storm.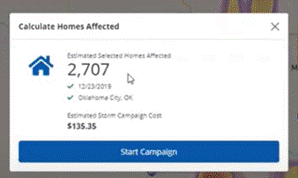 6. Set Up Your Campaign
After you have started the campaign, you will be taken to a display for setting-up the name, dates, and budget for the specific campaign, including:
Campaign Name
Campaign Duration—choose start and end dates. Typical duration is 1-3 months.
Facebook's Campaign Lifetime Budget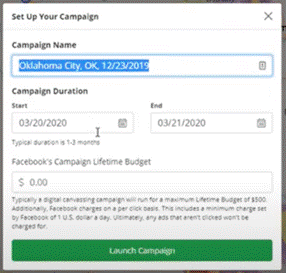 7. Launch Campaign
When your settings are customized, select Launch Campaign. This triggers a Thank You pop-up.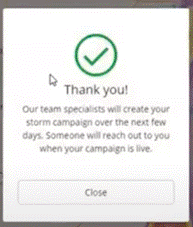 It also sends an email to our specialists that expresses the your interest in setting up a storm campaign for the selected swath, dates, and budget.
Once the campaign has been finalized, it will appear in the My Storm Campaigns section of the Weather dashboard.
---
While you wait for storm campaign to go through Facebook learning and become active, take the time to learn more about running a successful storm campaign: